Last week I mentioned I finally received my first Voxbox. Please go to www.influenster.com Register and you can possibly qualify to receive free samples of tons of amazing products that have yet hit stores in most areas. Iam so happy with my Love Voxbox and I hope to continue this beautiful friendship. They give and I receive completely Free. Todays Review is for Truvia an all natural Calorie- Free sweetener. The weather is heating up and what better way to cool off & still get your caffeine fix for the workday ahead then with a medium ice-tea . I grabbed myself one with a lemon but no sugar at my favorite lil breakfast spot. I waited till I got to work to try it out with my free packets of Truvia that I received in my voxbox.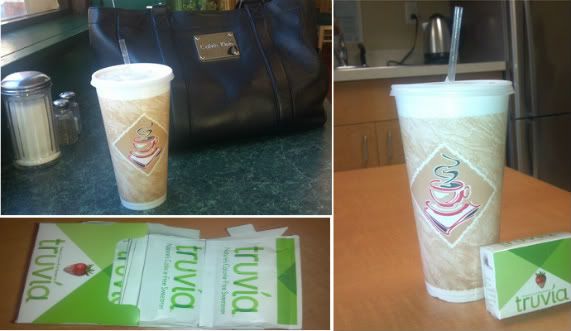 I've tried splenda + equal... hated it and told myself I would never try that out again. The difference between Truvia and them is that Truvia is natural and not artificial sugar substitutes. Truvia is really sweet... im the girl who usually puts 8 packs of sugar (SMH) in all mythe drinks, tea or coffee but I since the new year I have pushed myself to cut down to 4 packs & have done really good at cutting my sugar intake. Now with the Truvia I only used 1. The packs are filled up all the way to the brim and its really sweet.
Reason for use: weight loss, dental care, diabetes & great taste.
Thumbs up. Can't wait to sprinkle this on a grapefruit, I have such a sweet-tooth that I add way to much sugar, Truvia will help me with that.