I have alot to post about today... I thought about making it into two posts but in ready to get the ball rolling with an introduction to Influenster. I finally received my first Voxbox. Please go to
www.influenster.com
Register and you can possibly qualify to receive free samples of tons of amazing products that have yet hit stores in most areas. Iam so happy with my Love Voxbox and I hope to continue this beautiful friendship. They give and I receive completely Free.
Quick overview because I actually have a review on my favorite item down below: Venus and Olay Razor from Gillette: Love the pretty packaging, so excited to try it since the weather is heating up which means less layers and more skin. Gourmet Milk Chocolate Bar from Ghirardelli: Okay so this is a huge bar but Iam not a chocolate lover and I know this is usually not the case. Im sure I will have no issues to get someone to review this for Me. Kiss Nail Dress: Stick-on-Strips and Nail decals ... My number one favorite item in my voxbox so keep reading for my review. Herbal Tea Sampler from Stash: who here is a Tea Baby --> Iam. And this sampler comes with 9 different flavors, I just know I am going to love it. Truvia: Anyone on a diet should appreciate this calorie-free sweetener. My love Voxbox finally came to ne Friday and by Saturday my mom was insisting she's needs to get her nails done. My mom is in her 50s but still likes to keep it trendy so I decided to share plus she was running late to her church function. Though these pics don't do enough justice, I will b doing my own nails next week
Great trend according to me but only if you like fun, super-sexy blingy nails.
I feel like I receive one of the best Nail dress, Shrug KDS11.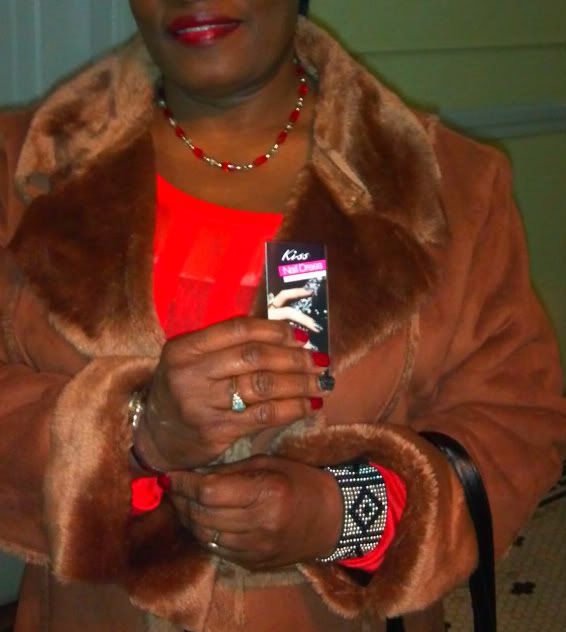 Have you spotted any of these new KISS products in your area yet?