I was able to score a pack of Nail Rock Naill Designer wraps thanks to Rhonda at
Looms, Lids & Layers
These were just a bit difficult to do without them lifting but despite application problems, these make such a statement. I will def be on the look out for different prints n metallic ones. These can be purchased at Bloomingdales or AOSOS. You first file, clean and push back ur cuticles and buff ur nail. Then applied a clear top and picked the stickers closest to your nail bed and apply. My hardest part came with trimming the sides and filing off the extra pieces of the stickers. First attempt but ended up not liking it much but did receive compliments so I left them for a few days longer.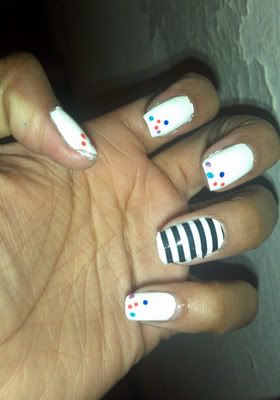 But in the end ur left with a pretty design you couldn't have perfected free-hand or stamping.
Ooh Lala... My favorite look since I've become obsessed with doing my own nails.